Commerce In The Town
The port of Padstow has developed commercially since the late 19th century, it has long had the social centres of a normal small town, public houses, places of worship, and small shops, it had electricity in the early days supplied in a small quantity from Prideaux- Bune Estate was available, later the Padstow Electric Power Company was established. With the opening of the railway in 1899 and subsequently the development of the visitor and fish trade the town embraced an expanding number of shops. Sadly now in the 21st century, the railway has ceased to exist, and almost all of the small shops have disappeared, mainly being overpowered by multi-national outlets, art, casual clothing, and well known restaurants. Our cinema has closed and the traditional traders have disappeared, in the fifties there were four butchers, three bakeries, two barbers, two fishmongers, two gents outfitters plus a traditional ironmongers where one could buy anything from a single screw to a bicycle. No longer can one buy our locally caught fish at a realistic price,most shellfish is exported to the continent. Sadly the heart has gone out of the town. Below are pictures of some shops of yesteryear.
Located in Duke Street Originally Derricks Ironmongers, then Radfords for many years, after which it became Clues, now occupied by Fatface Clothing.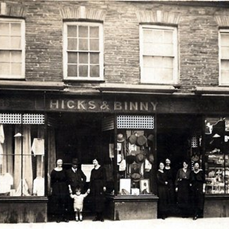 Hicks & Binney , became Hicks & Capel, later rebuilt as Donald Rawe's Gent's Outfitters now split into three premises.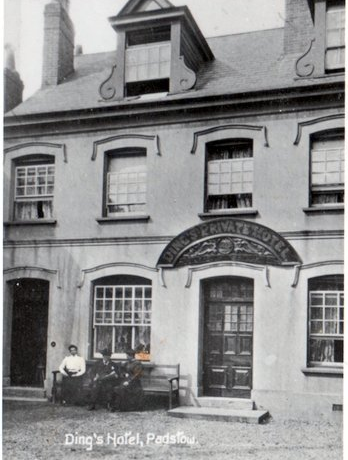 Ding's Hotel Mill Square now The Ship Hotel.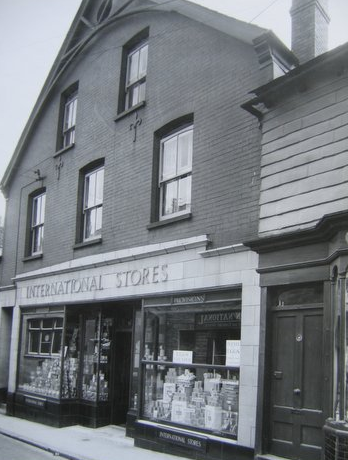 The International Stores Duke Street now subdivided into two retail outlets.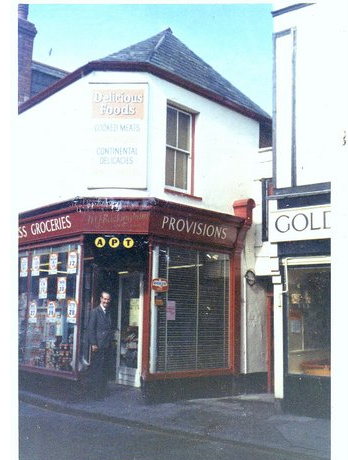 Buckingham's Grocers Lanadwell Street in 1960 now occupied by a gift store.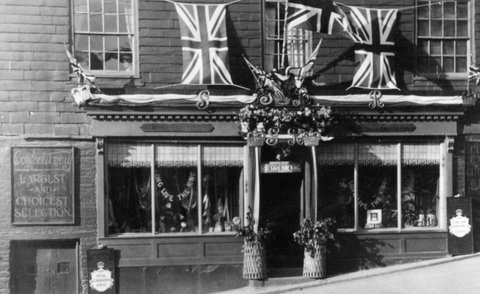 The Sunflower Store Central Square formerly Tremayne & Clemow now The Famous Little Store.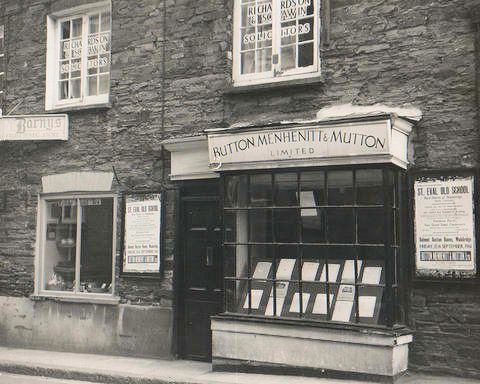 Button Menhenitt & Mutton Estate Agents, This site is now occupied by 3 commercial outlets.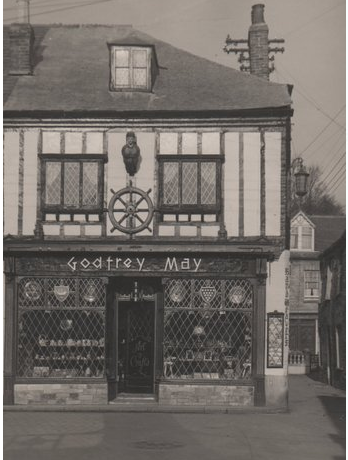 May 's gift shop shown here was originally the 1st Post Office & Telephone Exchange in Padstow. The building was demolished in the sixties and rebuilt as Barclays Bank.